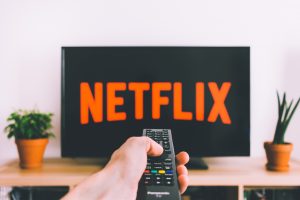 ECLAT's Top series for improving your English
Watching TV series has always been a great way to improve your listening and discover new vocabulary while relaxing. As finding great series to watch has never been easier, we asked our trainers at ECLAT to tell us their favourite series; from comedies to spy thrillers and horror, you're sure to find something to watch! All series are currently available on Netflix.
Romance:
Jane the Virgin: Despite promising to remain a virgin until marriage, Jane Villanueva learns she's pregnant due to a medical error.
Outlander: An epic tale of two time-crossed lovers.
Comedy:
The Good Place: Selfish Eleanor Shellstrop accidentally arrives at the Good Place after dying. Determined to stay, she tries to become a better person.
A Series of Unfortunate Events:The Baudelaire orphans fight the evil Count Olaf (great for watching with the kids!)
Entertainment:
Gad Elmaleh – American dream: the French comedian's first show in English is about all things American!
Myth Busters: Fearless hosts Adam Savage and Jamie Hyneman examine some of the most commonly held beliefs in popular science and culture.
 Dramedy (Comedy / drama):
Gilmore girls: Independent single mom Lorelai and gifted daughter Rory deal with family, romance, professional and school issues.
Orange is the new black: A privileged New Yorker is sent to a women's prison because of a past crime.
Suits:  A college dropout manages to get a job at a prestigious law firm despite having no qualifications.
Superheroes:
Supergirl:  meet Superman's cousin Kara Danvers!
Umbrella Academy:estranged siblings with super powers discover family secrets — and a major threat to humanity.
Dramas:
The Crown: Queen Elizabeth II's reign and life from the 1940s to modern times.
Luther: A determined detective tries to control his personal life while dealing with the psychological consequences of the crimes he solves.
Thrillers:
Homeland: CIA analyst Carrie Mathison deals with mental health and family issues while fighting terrorism.
The Americans: twomarried Soviet sleeper agents live near Washington, D.C. during the Cold War.
House of Cards:  ruthless politician Frank Underwood and his wife Claire seek power and revenge in the White House.
 Science fiction:
Sense 8:eight people telepathically experience each other's lives.
Stranger things:When a small boy disappears, a small town uncovers secret experiments, scary supernatural forces and one strange little girl…
Black mirror: This series examines the unexpected consequences of technology in a modern society.
Horror:
ZNation: A team must go on a dangerous mission to transport the only survivor of a deadly zombie virus, as they hope he has the key to a vaccine.
The walking dead: Following a zombie apocalypse, survivors team up to fight for their survival.